Here's a few shots I took of the pre-game activities and the raising of the 2008 Division Champ Flag.  
The strangest thing I saw at the Big A yesterday was the bubbles.  Bubbles?  Yeah, bubbles.  
Up to about 30 minutes prior to the pre-game activities, there was a bubble machine behind the wall in CF releasing these bubbles of the "A" logo. According to an LA Times reporter who was doing a "story" on this cutting edge marketing strategy for Wednesday's business section (seriously, that's not a joke), the idea was for the bubbles to float up and out of the stadium and across Orange County and Southern CA causing everyone in the area to look to the sky and collectively gasp "Oh yeah!  The Angels!".  
First I couldn't tell what they were (had to ask an usher) and second they were pretty much dissipated by the time they made their way out of the stadium.  Might want to rethink that one for next year.... 
It wouldn't be Opening Day in America without a big ass flag stretched across the outfield.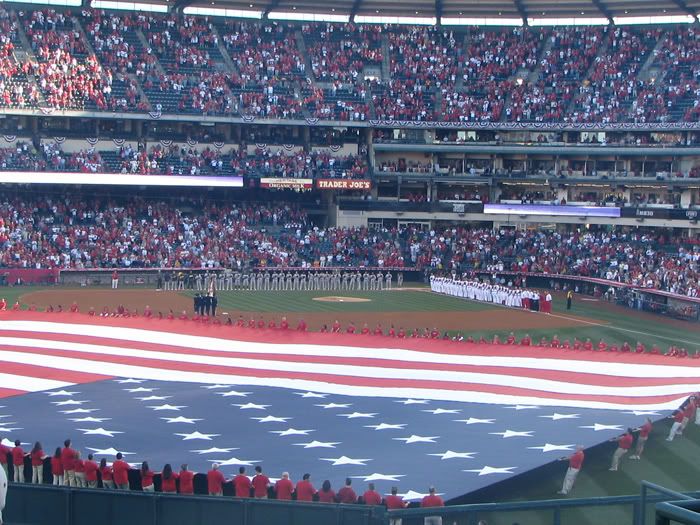 The Anthem and Fly-over were both mediocre.  The jets were slow and quiet this year, but no Kenny G is never a bad thing.
Then the fun began.  The baddest Angels (plus Quinlan) hiked through CF to raise the flag.  
Quinlan?  Really, Mike?  I can think of at least 4 other Angels who contributed more than The Q, but whatever, it was a nice gesture and I'm sure he was stoked to be out there. 
Shields looked like he wanted to grab the camera from my hands and beat me with it.
Ninja came out and they all posed for photos and raised the flag.  Glorious!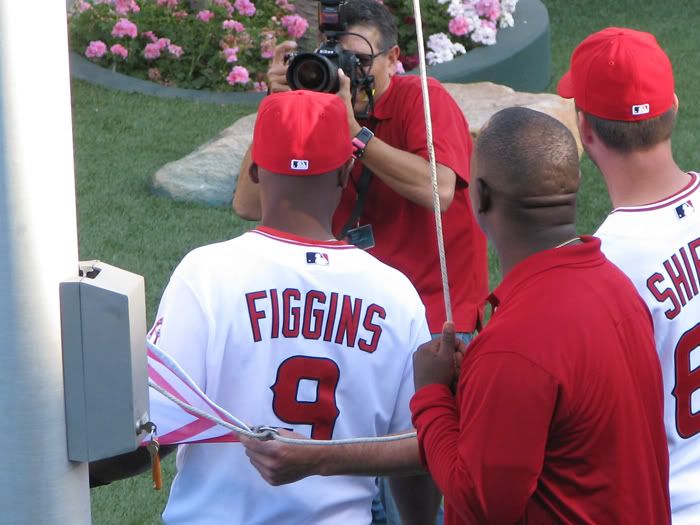 Here's to another great season of Angels Baseball.  I can't wait to be there when the boys hoist the WORLD CHAMPIONS flag in 2010!