This is going to be long, wordy, and not very entertaining to most Halo fans. There's your disclaimer.
My social distinction is probably what they call "lower middle class." I'm no longer in poverty but my life is by no means glamorous. I buy tickets for about half a dozen games a season. "Buy," not "go to." Every once in a while the universe tosses you a thrill.
I live for $5 Mariners games and enjoy fewer things better than sitting up in the breezy 500's with an AM walkman in my ear. But that doesn't mean I only go to that many games - I'm always being given tickets for games - it's a delightful, if mysterious phenomenon, that when your favorite baseball team becomes known the world puts tickets in your hands. (Of course, this does not apply to all teams - I count myself blessed that just down the road is the first class team I love and I can get a seat practically any night I set my mind to it. But one night early this season I found myself sitting next to a Chowderhead on vacation from Beantown and touring the southland's ballparks. I told him the history of the Big A. He told me about how he doesn't get to go to Bosox games anymore - tickets are impractically priced and virtually unavailable. This was a guy who would actually chant 'Let's go Red Sox' on New York subways. I can't imagine not being able to see my team in person.)
My friends, in general, are artsy intellectuals or post-punk rivetheads or neurotic drunks who don't hold baseball close to their hearts - but they all know who to forward their tickets to once they win a pair at work or something.
My buddy Scott's father, in whatever corporate field he is in, has access to some vendor or another that occasionally throws gifts at him. Scott arranged that his father would get us a night at the game in great seats. Scott would have been the one to go with me, but since arranging these tickets he has taken a job editing porn films from 6pm till 3am.
So I took my girlfriend of three and a half years, a molecular biologist who just got her doctorate from UCI. I'll refer to her as Violet DeMent for sake of internet anonymity, as that was her college radio DJ alias, as I've likewise named myself. I won't refer to her as Mrs Necrosis because I know better. (Pictures after the Page Break)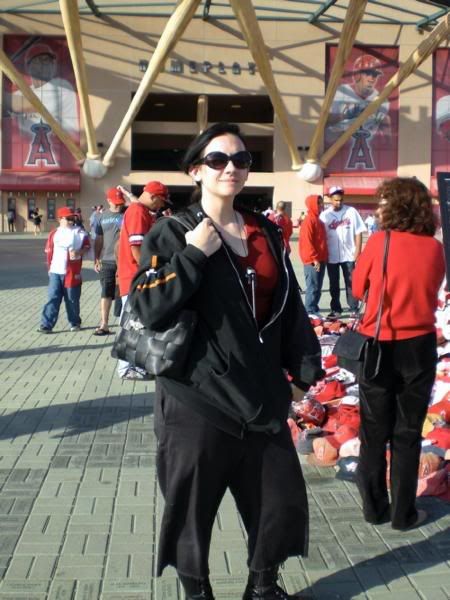 Wednesday night was the first game I've ever taken her to. The seats in store for me were, I felt, good enough for a non-fanatic. And I think she's been watching enough games (in a peripheral manner when I'm at her place taking advantage of her basic cable) to know the team in some manner. She knows Vladdy's been having a rough season. She knows Rivera and Torii are hot this year. She's decided that Bulger is her least favorite reliever. She knows Figgy leads the club in steals. And she's decided that Rex Hudler annoys her (I'm a fan, for the record).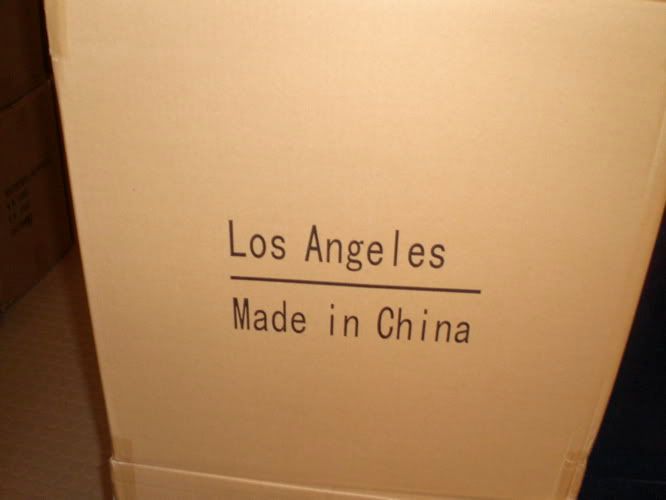 (This? Oh, these are the boxes that contained the giveaway coolers at the front gates. I found the words funny.)
So we, frugal young people who have never had debt in our lives because we don't believe in it, strolled right up among the elite and sat front row behind third base, behind the photographer's pit, just next to the dugout.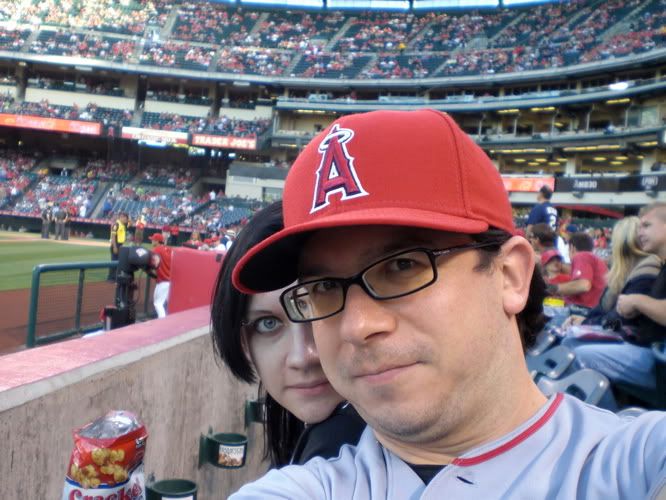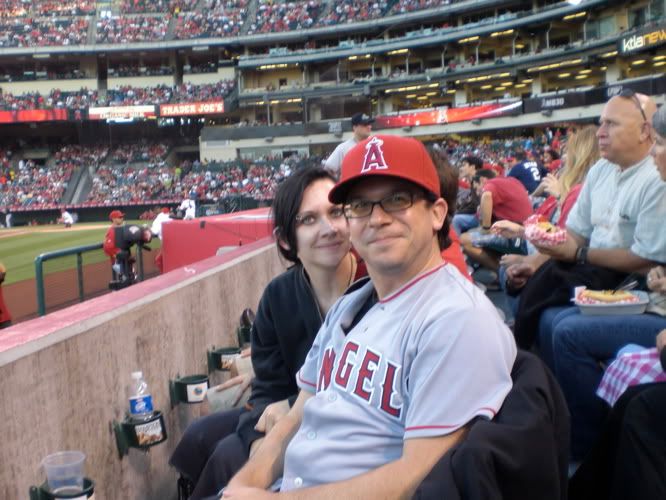 It's kind of hard, in a situation like this where the players are practically touchable, to not spend the entire night saying things like "Torii Hunter is right THERE" or "I can't believe this, Figgy is standing right THERE."
Here's a sampling of our POV: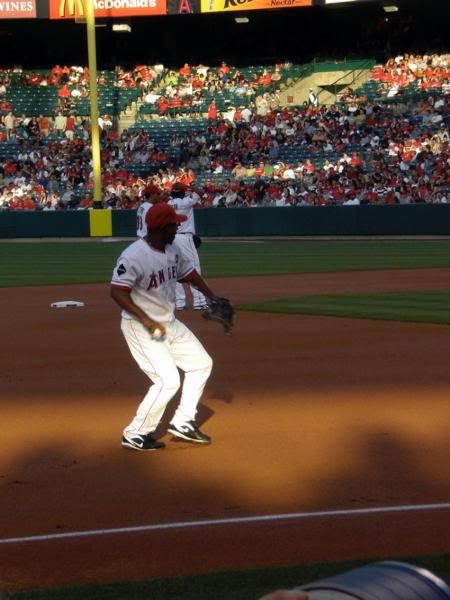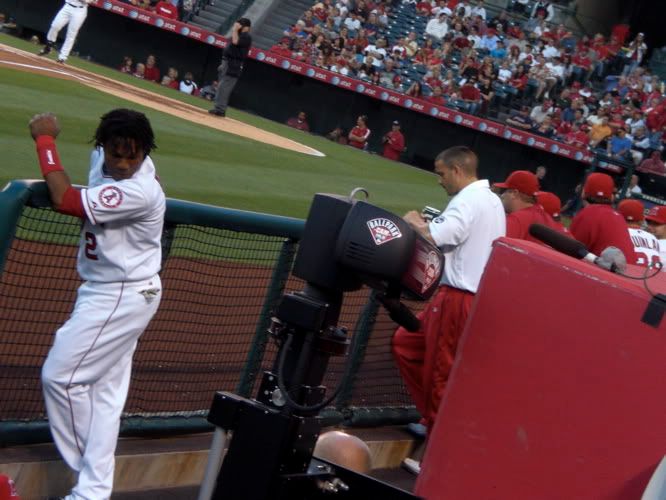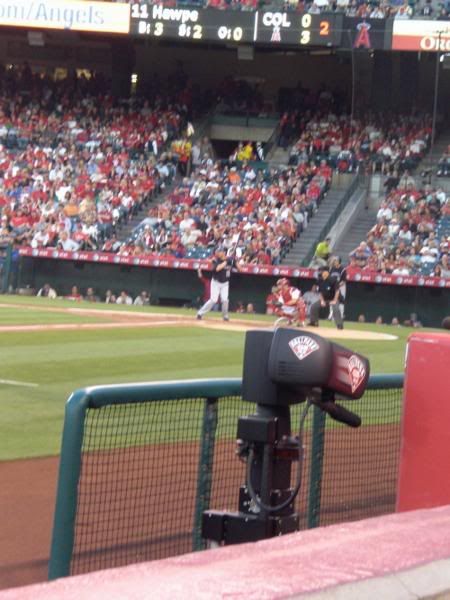 Violet took this one because she found herself laughing out loud at Hawpe's stance, knees buckled together so.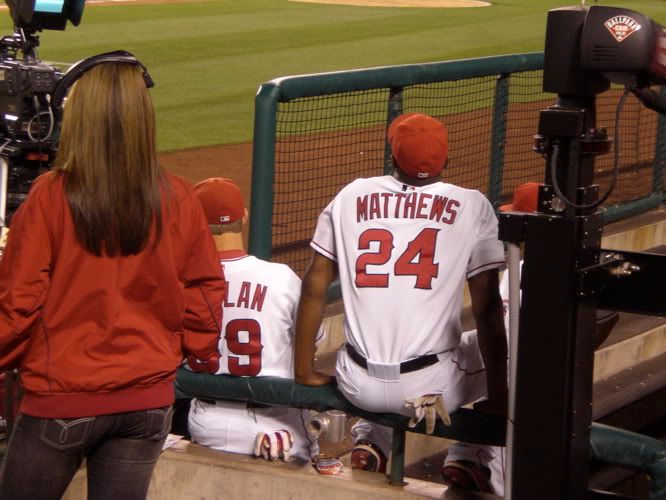 And there's our boy Jr... Just hangin'... Waiting.
You know how it was when Vlad had his moment. To think that Violet had a front row seat to watch it go out... I'm hesitant to call him "back" because it seemed like the Rockies were hosting batting practice for the Halos all night. Course, I wish them all the best now that we're done facing them for the year. And I can also happily state I've seen with my own eyes every homer Vlad's hit this year (all both of them).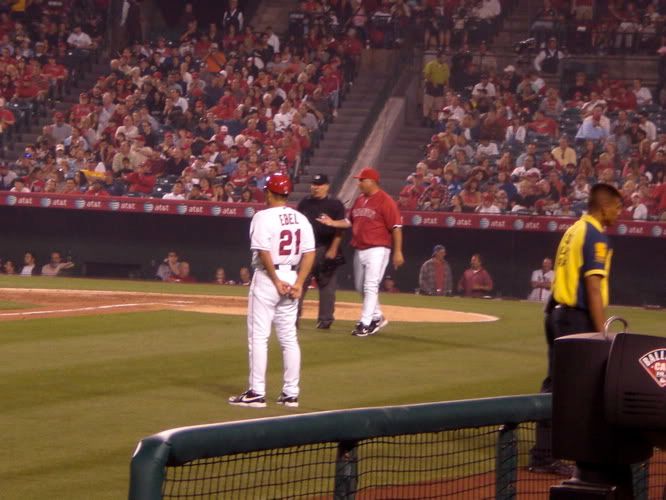 Here's Scioscia out to ask what the problem is after Mighty Mouse apparently took one on the foot.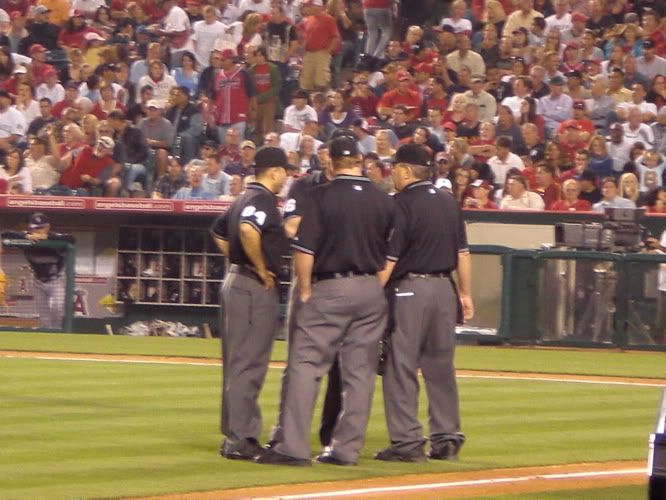 One can only imagine what's going on here... "Where do you wanna go for food after this?" "How about Olive Garden?" "Oh hell no, Scioscia's gonna be there. He can't get enough of that rigatoni." "Well how about Hooters then?" "I'm not allowed at Hooters anymore." "But I can get us free wings!" "Well, fine, you go and get your damn wings, I'm still not allowed back at Hooters!"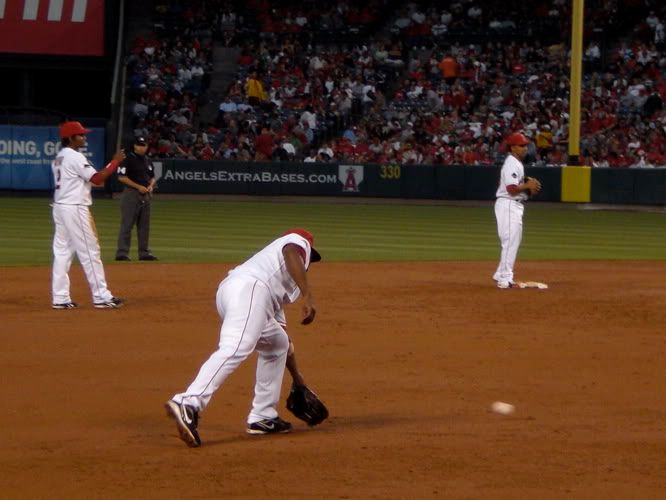 Taking a novice to the game is fun because in explaining the nuances of the game you get to re-experience it for the first time again yourself. "What is lob?" Left On Base - it's how many runners...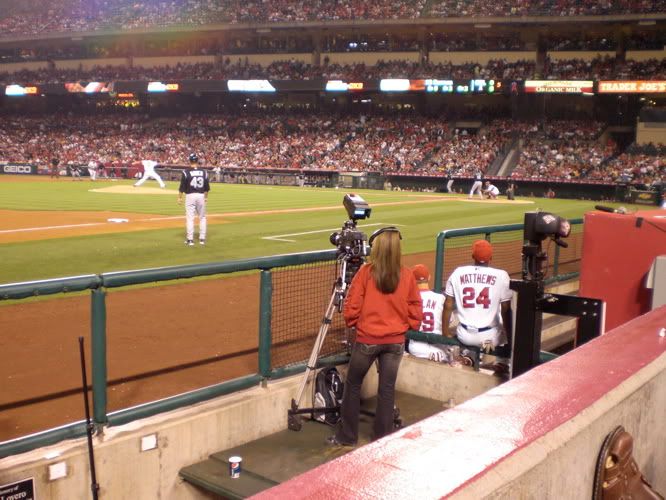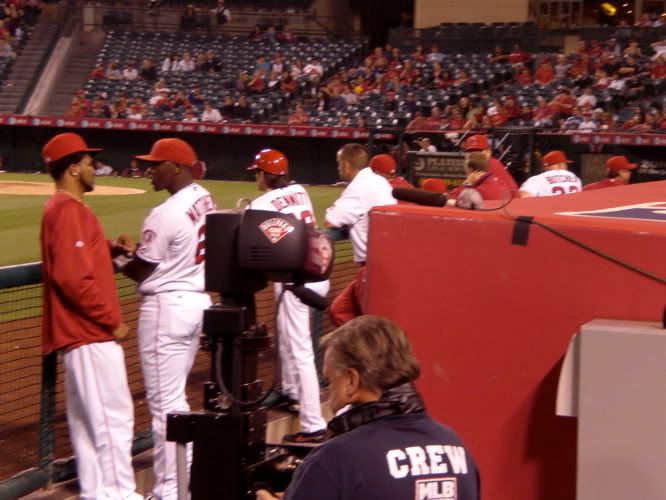 So this is what your vision looks like if you've made the right choices in life and / or were born in Newport...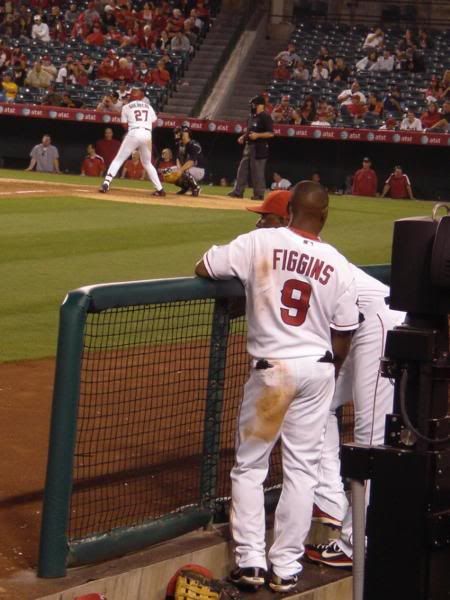 Violet didn't believe me when I said Figgy was short until we had this comparison of him standing next to Jr. Of course, Figgy isn't Albie Pearson short. Now there's a man after my own height.
You all know how the game was. A glorious slugfest. Aggressive baserunning and Sciosciaball. I couldn't have asked for a better game to take her to.
How about that Justin Speier? His split finger was just whipping by everyone that night. Can we get some more of that, please? Nails.
And we even ended up on the "Kiss Cam." Freaking magical.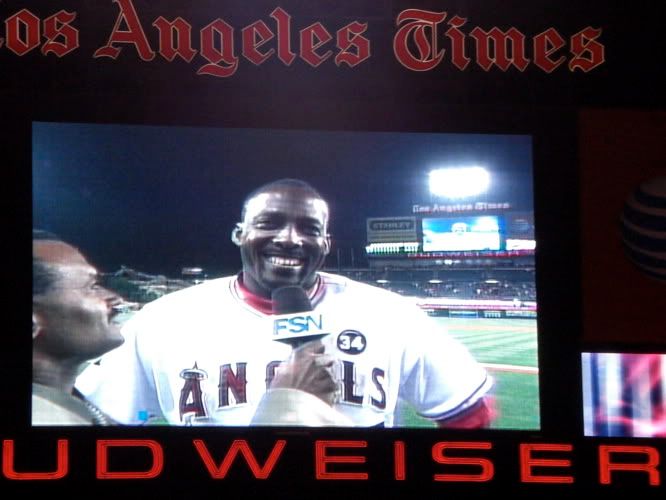 At the conclusion we were all encouraged to stick around and listen as Jose Mota did a brief interview with Vlad. His mumbled spanish was broadcast over the loudspeakers and Jose did his best to concisely translate for the caucasians before releasing taciturn Vlad and his tucked-out shirt.
A fantastic night at The Big A. An experience I never thought I would either afford or have drift my way.
I believe that if you are a genuine baseball fan then you do not choose your team - your team chooses you. I don't have a choice about being an Angels fan. And on nights like this I'm so glad that I am one.