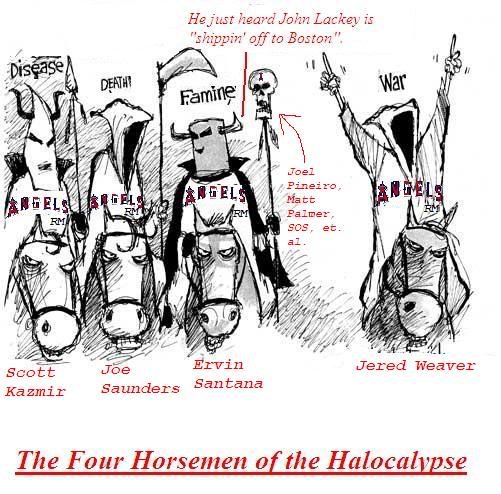 In light of the relative quiet on the free agent front of late and the anguish this has caused many here on HH, I figured I would go ahead and lighten the mood. Plus, I was just plain bored. More details below jump.
ENJOY!!!
This idea originated in the  "Arbitration Armageddon" thread. I suggested the name "The Four Horsemen" for the Angels' 1-4 starters in 2010. Raaddad added the "Halocalyspe" part. I created this using only MS Paint because that's the only graphic design program I have, so sorry it's not in like 1080P.
Jered Weaver, Scott Kazmir, Ervin Santana, and Joe Saunders were all assigned to their respective horseman because I felt they in some way represented them. Bonus points if you can guess why they are who they are in the image.
Disclaimer: The original image was a political cartoon created by Mike Luckovich on 1/31/08 (couldn't quite make out the year, but I believe that's it).
EDIT (1/21/10): Character explanations have been added in a post below. Opinions and comments still welcome!