This first game against the Cards has been one of the most frustrating experiences for me in a long time. Forget the fact that Brad Penny ended the game AND passed Reggie Willits on the career HR list in one swing. The most infuriating part of the game for me was the 9th inning when they came up to bat against Dennys Reyes.
Down by 4 runs the Angels should have been trying to get as many men on base as possible. What's more, Reyes got up there and couldn't find the strikezone at all.
Willits had the right idea and worked himself a walk.
Then, Aybar goes up there and bunts on the 3rd pitch! How is that ever a good idea when you are down by 4? Was he trying to move Willits over? WTF 
I got my hopes up again when Kendrick lays off 4 straight pitches (3-1)...and wouldn't you know it he hacks the next one the other way for an easy out. FFFFFUUUUUUU
Abreu gets up there and is like "F' this I have a buffet to get to". Game Over.
Dennys Reyes sighs in relief because our reluctance to take a BB got him out of a potentially bad situation.
I get up and beat my wife and kids unmercifully because I just wasted 2 hours and 44 minutes of my life. Can someone come bail me out in time for tomorrow's game?
Here is proof of our fail, when it comes to getting on-base. (AL).

:(
...and the hackers(min 100 PA)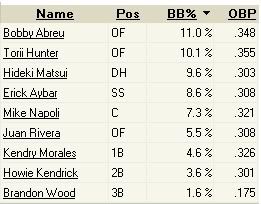 The Angels need to rethink their philosophy at the plate and I know just the guy who can teach them...