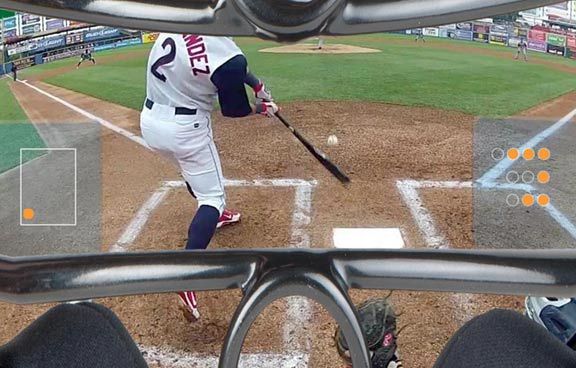 Baseball should develop an in-the-mask information display to assist the home plate umpire in calling balls and strikes. In the umpire's left side periphery, the display will mark the location of the pitch as it crosses the plate, and turn red for a strike, or blue for a ball. On the right side, icons can keep track of balls, strikes and outs.

This is a great solution, because it would greatly improve accuracy, while maintaining the time-honored tradition of having the umpire signal his calls with arm and voice. The sights and sounds of the umpires are a flavorful part of what makes baseball . . . baseball.
The underlying technology required is already operational. Since about 2009, systems such as PitchTrax (TBS) and FoxTrax (FOX) have reliably tracked pitch location in real time. The visual data could be fed wirelessly to a "heads- up" display inside the umpire's mask.

Private companies have working virutal displays, such as Google with their Google Glass. One option would be for MLB to partner with a company in the private sector. But probably the best potential partner for the in-mask pitch tracking will be the United States Military. Virtual displays were originally developed for use by our fighter pilots in defending the nation.

A partnership with the military would offer a great public service opportunity. TV broadcasts could mention that umpire display technology was provided by the U.S. Air Force (or Navy), tied in with MLB's regular commitment to honor the men and women proudly serving our country.

I don't really see a downside. It won't slow the game down, because it works in real time. If the system crashes mid game, the rule would be that the game continues, with the umpire simply working without the assist, as in the old days.
In-mask display is the best of the old and the new. The Umpire can still ring up the hitter, pumping his right fist and bellowing "Steeeeee-rike three" to the cheap seats. But now, we'll know for sure that the hard slider really did catch the outside corner.