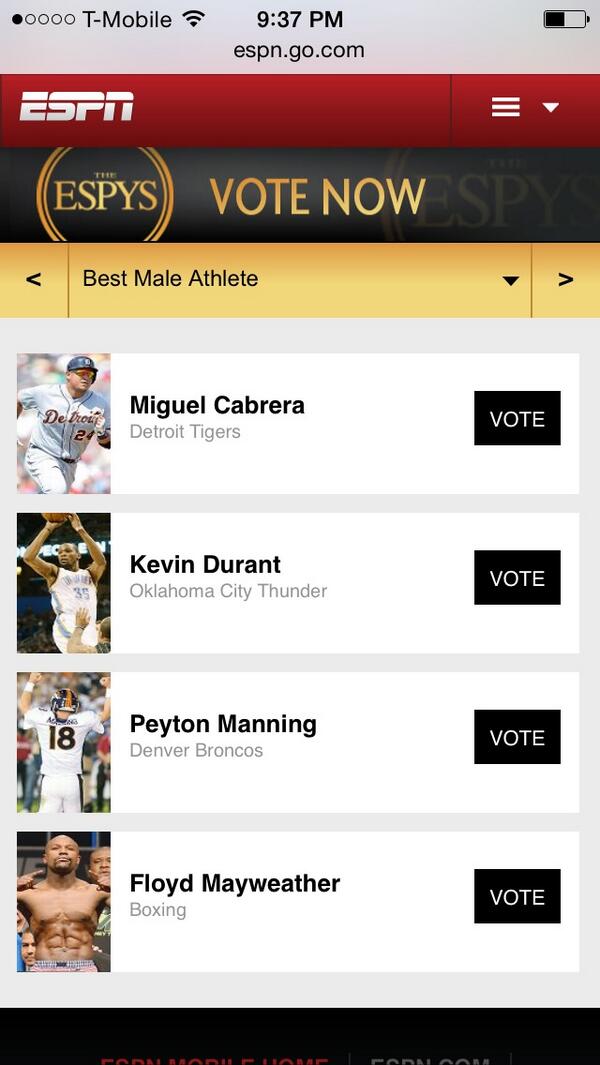 ESPN is known for a lot of things.
It's non-stop coverage of Lebron James, Tim Tebow, Derek Jeter, Tanaka, and Johnny Manziel.
Biased coverage of East Coast teams such as New York, Boston, etc, among others but c'mon now could ESPN be stupid enough to have Miguel "expletive" Cabrera as a nominee for athlete of the year over Mike Trout in the 2014 ESPYs? They usually do this every year at the ESPYs, have one player from each sport but always end up having Lebron James, or Kobe win it but usually the nominees arent so bad. But this year they have the audacity to have Miguel Cabrera as a better athlete than Trout? Is this how Cabrera robbed Trout of the MVP the last 2 years, by fooling the whole world into thinking that being fat, slow, and cant run to save your goddamn life is being an athlete much less one of the 4 best athletes in the world? GTFO! Give me a break please. Someone please notify ESPN of Mike Trout's existence and remove that fat lord out of the best athlete of the year nomination immediately.
Please and Thank You.