Believe it or not, Halos Heaven isn't the only place to get Angels news.  There are fans that are so passionate about the Angels that they've created their own space on the internet in order to voice their passion.  Each has their own particular spin on stories, a history to share, and other relevant ways to talk about the team.
"I'm just a guy who loves his daughter and wife, baseball, collecting baseball cards and trying to bring them all together whenever I can" is the concept behind "ihearthalos", an Angels blog written by Ryan H. since the beginning of 2009.  When you visit "ihearthalos", you get a unique point of view of an Angels fan through baseball cards.  "I started this blog, mainly out of my love for baseball cards.  Over the last few years there has been a proliferation of baseball card related blogs, but none that ever dealt with my favorite team.  After kicking around the idea for a while I decided to give it a shot.  I've always been a little annoyed at what seemed like other fans snubbing the Angels, so it seemed like a great way to spread the word of the Halos and also discuss my hobby.  On top of that, I was an English major in need of a creative outlet.  I became hooked when I started to discover other Angels fans out there who shared my love of cards and the Angels."
Regarding the future of blogging and the effects of the internet on the baseball card hobby, Ryan added, "I think blogs are definitely becoming the voice for the current generation of fans.  As a kid I loved waking up and going through the box scores every morning, but that practice has essentially become obsolete, since you can get the information in real time on the internet, watch video highlights and read a write up within minutes.  It will be interesting to see if going forward, the blogging world is able to produce voices that large numbers of readers look to as their source for information.  While Bill Simmons seems to be the ultimate success story in this realm, I'm not sure how many more writers will see his type of explosive popularity."  The internet has also had a big effect on the baseball card hobby, "The internet has in many ways revolutionized collecting.  As a kid, you were limited to one or two baseball card shops in your town and any friends who also collected.  Today, there are numerous online card sites and with baseball card blogging, I have found numerous trade partners."
Although his website isn't the typical Angels blog, Ryan seems like a typical fan (I mean that in a good way).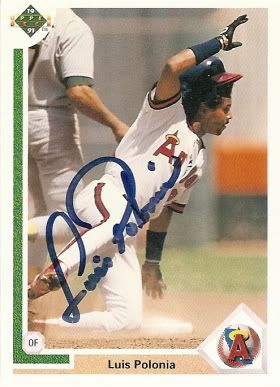 Becoming a fan during "the fateful year of 1986", the Texas native and his family would spend 2 weeks out of each summer visiting his grandparents in Orange County.  "My grandpa first introduced me to the Angels when he took me to a couple of games against the Mariners in mid August of 1986. In the first game of the series, Jack Howell hit a walk-off homerun in the 11th and I was hooked.  I spent the entire game asking my grandpa questions.  Why are they booing our catcher when he comes up to bat? Ahhh, the ever clever 'Booooone' chant.  By the middle of the game I couldn't wait for Bob Boone to come up to bat so I could join in.  Plus it was the summer of Wally World, which was a phenomenon that any baseball loving boy had to be swept up by."  In 1990, Ryan's family moved from Texas back to California.  1990 was also the season Luis Polonia was traded to the Angels from the New York Yankees.  "As we all know, those early 90's teams were sometimes a bit rough to root for, but Luis Polonia caught my attention right away and I just loved watching him play the game.  This was a hugely exciting time for me as a baseball fan, because I was finally able to regularly attend games and Luis was the guy who gained much of my attention.  After he left as a free agent, I still followed his career, but it wasn't the same."
Ryan said he was a pretty big Tim Salmon fan, but his favorite player became Garret Anderson, "Salmon and Edmonds were great, but something about Garret just seemed cool to me.  He was so smooth with everything he did and I just liked his style.  By 2002, he was fully entrenched in my heart and his big hit in game 6 did nothing to quell that."  And as a fan of Halos Heaven, Ryan added, "I'd be remiss if I didn't mention that if Garret wasn't so lazy, we would have swept the Giants in 4."
In his "real life", Ryan is an English teacher who is "attempting to mold young minds and doing my best not to lose my own."  Married, with a daughter born in 2006, Ryan said, "My wife was the furthest thing from a baseball fan when we met. She grew up in a family of women who spent exactly zero seconds thinking about sports. Within a month of us dating, I had her sitting up in the View Level watching the Angels and she slowly started coming around."  Ryan and his wife were able to attend Game One of the ALDS this year against the Red Sox, "We sat out in left field and she loved every minute of it. She was pounding away on her thunderstix in the ears of the somewhat uptight couple in front of us and went crazy for Torii's homerun. He was already one of her favorite players, so that made it all the sweeter."
"Recently, I've been spending less time blogging as the demands of work and the family have slowed me d
own, but during the height of my blogging this year, I normally spent an hour to two hours a day working on posts, scanning cards, and getting them loaded onto photobucket.  As I go forward, I'm hoping to post a few times a week and hopefully streamline my process.  Even when I'm not as active with my blogging, I find myself spending downtime creating lists of my favorite Angels or creating my own dream lineup. So the process is sort of ongoing in my head, with a hope to get into print eventually."  Ryan's site is filled with information on Angel player cards, many accompanied by scans of the actual card.  "I've always been a bit of a perfectionist, so it was important for me to provide images and write posts that people might find unique."
As a collector since the mid-80's, Ryan said collecting became an obsession until around 1987 when girls and other activities became more of a priority.  Some of Ryan's favorite cards include the 1972 Topps Billy Cowan, 1971 Topps Jim Fregosi and the 1975 Topps Nolan Ryan, but he singled out the 1993 Upper Deck Tim Salmon Rookie Checklist card.  "Picking a favorite card is nearly impossible for me. That being said, I absolutely love the 1993 Upper Deck Tim Salmon card.  The card features an image of Salmon with the Big A in the background and an orange sky.  One of the great images of an Angel card."  When asked about sets, Ryan said he'd always been fascinated by the 1975 Topps set because of the gaudy color combinations and as a collector in the early 90's, he was impressed by the early Upper Deck sets.  The 1956 Topps set would cause Ryan to spend "an inordinate amount of time staring at these cards in glass cases at different card shops and shows."
During the 1990's, card manufacturers began releasing a huge variety of cards to quench colle
ctors' thirst in a booming market, but many collectors were involved in the hobby mainly for investment purposes.  As the value of cards rose, the card companies released more and more cards.  "Card collecting has changed immensely over the years. I first left collecting around the time when the market was becoming flooded with new releases from a myriad of companies.   It was all too much to figure out and was quickly becoming a drain to my limited funds.  What I like about collecting today is that while there are still a
number of sets, you can find a niche within today's baseball card market.  I still enjoy collecting the basic Topps flagship release each year, but I also like retro themed sets like Topps Allen and Ginter".  Ryan says he collects cards because of his love of baseball, not in the value some cards hold.  "I have almost no interest in the monetary value of my cards. As a kid I bought into the dream that I would one day sell my collection to pay for college, as
well as my mansion and quite possibly a Lamborghini.  When I returned to collecting, I really wanted to get back to what I loved about the hobby and began to focus on what made me happy.  I've added thousands of more cards to my Angels collection which is where my focus lies almost entirely. I also enjoy building sets, old and new.  I'm well aware that I spend more money than I could ever hope to make through selling my collection, but I have no interest in selling it.  At this point, the only cards I sell are ones I get out of boxes that are not Angel cards."
"Within today's card market, there are high-end releases that I would never touch, but also mid-range and even a few cheaper sets that are enjoyable to collect. Most people who buy the high-end, expensive products do so in hopes of profit, but it's a fairly soft market. So I'm often able to pick up high profile Angel cards for a tenth of the price that the original buyer purchased the pack for. That being said, it can be a bit overwhelming when someone jumps back into collecting, so doing a little research is definitely necessary."
(A huge thanks to Ryan for taking the time to answer my questions and providing the pictures of the cards.  Be sure to visit I Heart Halos.  If you have an Angels blog or know of one you'd like to see featured, please send me an email: wihalofan at gmail.com)